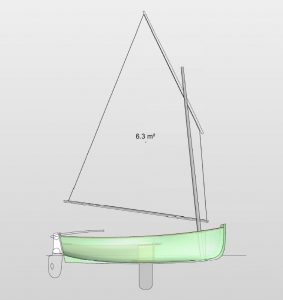 Construction page with photos here
Building a wooden boat has finally bubbled up on my "list".    As my son Tyler commented, it is a perfect hobby for me combining 2 of my favorite interests:  sailing and woodworking.
I don't need to build very large boat to satisfy this dream.    We still have our Corsair F-27, a wonderful sailing machine, and plan to keep it indefinitely.     But a sailing dinghy, capable of rowing, provides a very different sailing experience.   Plus, if light enough, we could potentially put it on top of our SUV and explore new water.
I decided on a cedar strip construction, but just could not find any plans that suited me.    Several emails to designers yielded less than satisfactory responses.   Finally, I found the website of renowned French naval architect Francois Vivier (www.vivierboats.com)    There's a great article on him in Classic Boat Magazine.  His Morbic 12 caught my attention.   However, it is a clinker plank design, and a little heavy for car topping.    Corresponding with Francois, he proposed a slightly smaller version 11 ft. that he could modify for a strip plank construction.    Sold!   We worked together on some details for the general arrangement, sail plan, and decisions to use a dagger board and rotating rudder.
A few days ago (11/30/2016) I downloaded the very comprehensive plans and am quite pleased – well done  Francois!     Now to jump right on it.
Click HERE to follow along the progress on construction.