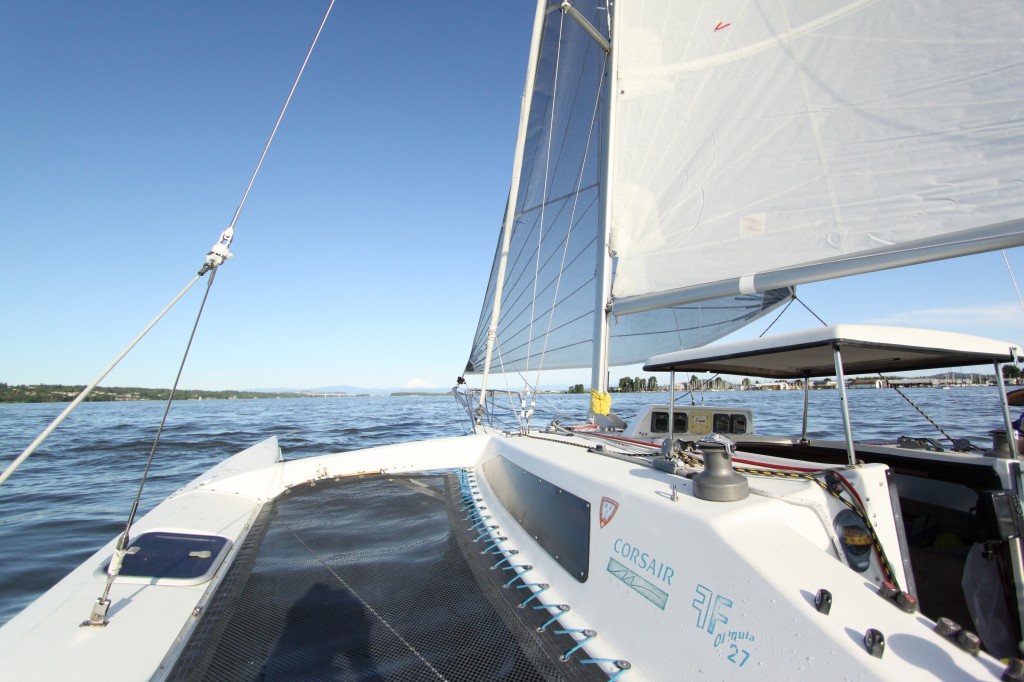 Get Set Go! View toward Mt. Hood on Columbia River near Portland, Oregon.  
In early 2010 my interest circled back to the Ian Farrier designed Corsairs, which I had considered for many years but had decided to start with a simpler and less expensive boat.    I decided to go for an F-27, if I could find one in the right condition.   There were about 450 built between 1985 and 1997, when it was replaced by the F-28 (still in production).     We found a 1993 Formula F-27 hull #376 at Alexandria Bay, NY through Don Wigston of Windcraft, Inc.     The owner was in Florida at the time, we were in Oregon, and the boat was in New York, so it took us a bit of time to strike a deal and get her towed back to Oregon on her own trailer.
For history's sake, the first owner Robert Onsgard named her "Bobsled"; second owner was Russell Kincaid and named her "The Great Blue Heron".   I'm the #3 owner and named her "Get Set Go!"
She arrived in Oregon late April '10, in time for a full season of sailing.    But the sailing began only after a month with her in the garage, carefully cleaning, restoring, testing electrical, and just figuring everything out ahead of taking her out for the first time.   She came nicely outfitted with new running rigging and 7 sails:   2 spinnakers, screacher with drum furling, 150 genoa and 2 jibs (Facnor 4T continuous line furling) and main sail all by Randy Smyth, former Olympic medalist and the most well-known custom sailmaker for Corsair trimarans.   She also came with 3 solar panels, auto pilot, GPS/chartplotter and many other extras.  I have since upgraded with Tack Tick instruments, Lowrance HDS-7 Gen2 touch chartplotter, AIS and radar (for when cruising).
Our first year was fantastic!   She's fast and fun.
Video of our first sail on her (4 min)
We sailed her out of Hood River, Cascade Locks, Scappoose and Portland and covered about 125 miles of the Columbia River that first season..
A good trip was 4 days from Scappoose out to Astoria and across the Columbia bar and about 20 miles out into the Pacific and back (220 miles total).    We hit 16.0 Kts per GPS at about buoy 7 on the way out.   What a thrill!    That was with jib and main sail.     We rounded buoy 1 and went quite a bit further due west and south before circling back and rounding buoy "CR", (Columbia River mouth) on the way back.    We were now on a broad reach with Screacher and main, making a consistent 12+ kts, keeping up with several power boats on their way in.
On the way back upriver, we pulled into Cathlamet late that evening (night-time navigation is a blast on the Columbia) for a few hours of sleep and got under way by 5am.   At that time the fuel station was not yet open – 4 gallons remaining – should we wait?  Should be plenty, maybe..   We had great wind every day, would we have it today?   Let's go for it.    Wrong..   It was still mid-morning with 3/4 gallon remaining and we decided to shut off the engine to save it for emergency.   Still no wind.
We had 1 bar of signal on our cell and called home for the hour-by-hour forecast – it showed 0 kt forecast all day at Ranier, still 15 miles away.  Our options were to anchor and wait it out, or perhaps bum some fuel off some campers on the shore, or.. but wait.. a small puff of breeze and a few ripples coming from aft.   We raised the spinnaker for fun and made 0.5 kts over ground – this was upriver of course, heading toward Portland.   We decided as long as progress was forward, we'd give it a shot.   We nursed that spinnaker for 11 hours, never exceeding 1.5-2 kts (over ground), but finally made it to Rainier where we gassed up and then motored the remaining distance to Scappoose.    One might say that was a tedious day, but it was all part of a great experience with a variety of conditions and challenges.   Awesome trip!
Sure is fun to "race" the other boats, but honestly there's not much out there that is a match for the Corsair.
After several times trailering from the garage we decided to take a slip at McCuddy's Marina off Hayden Island on the Columbia River.    We kept her in a double-slip, unfolded and ready to sail within 15 minutes of arrival.     I'm sold on that, versus trailering.   We pulled her out in November – She cleaned up very nice (thank goodness for bottom paint) and was safely tucked back into the garage with heater and dehumidifier inside her for the winter.
In April '11 we again launched her on the Columbia and she's docked off the back porch of some kind folks that live in a floating home of on Hayden Island.  We have had her there for 3 seasons now.
In July'13 we sailed her over 500 miles from Bellingham Washington to the San Juan Islands, then out into the Pacific, down the coast back back up the Columbia River to Portland Oregon, with 3 people aboard.   Wonderful trip.
I documented it in a ~30 minute video posted here.    It is in 720p/30fps HD format video shot by a GoPro Black Hero3 and shows awesome on a big panel display.    Gives a fairly good idea of what it's like to sail and cruise an F-27.
Video of July 2013 Bellingham to Portland Sailing Adventure on Corsair F-27.
Hull #376 Picture Gallery from former owner(s).
Story of Ian Farrier's F-27 design that was inducted into the American Sailboat Hall of Fame in 2004.